Calwell Luce diTrapano's Practice Manager Attends West Virginia Bar Foundation's Lawyer Leadership Institute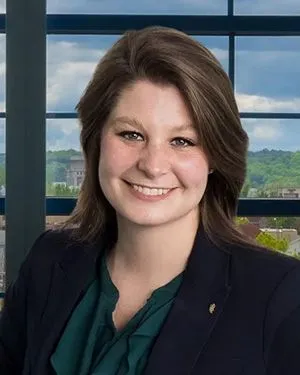 Charleston, W.Va., June 21, 2023 — Sydney Kaplan, the practice manager for the law firm Calwell Luce diTrapano PLLC, was one of twelve young lawyers from all over West Virginia invited to participate in the West Virginia Bar Foundation's 11th Lawyer Leadership Institute on May 19-21 at Stonewall Resort.
The Bar Foundation notes the Institute's objective is to provide newer lawyers with specific education and professional training that will enable them to become leaders in the legal profession, in their communities, and within the state.
"It was an honor to be invited to join a distinct group of lawyers around West Virginia to acquire a deeper understanding of leadership traits revolving around ethics, public service, professionalism, well-being, organization and civility, and interpersonal skills," said Kaplan. "Our group was privileged to receive direction from distinguished judges and seasoned lawyers. It was a wonderful experience."
The Institute's instructors included U.S. District Judge John Bailey, U.S. Magistrate Judge Michael Aloi, West Virginia Supreme Court Chief Justice Beth Walker, Lincoln and Boone Counties Circuit Court Judge Stacy Nowicki-Eldridge, and attorneys Karen Kahle of Wheeling, Brenda Waugh and Norwood Bentley of Martinsburg, Kevin Ellis of Morgantown, and Lauren Turner of Bridgeport.
Kaplan was raised as a Jewish-American in the small town of Milton. She learned at an early age about the role diversity plays in society and the importance of being involved in community endeavors. "In fact, that is what drew me to Calwell Luce diTrapano," said Kaplan. "The partners are consistently supportive of local non-profit organizations and warmly welcome an array of attorneys and support staff. I'm proud to work for a firm whose managing partner is a female and a great teacher. And I value the time I'm able to spend on volunteer and activism work."
"Sydney truly is a rising star in our State Bar and the legal profession as a whole," said Melissa Luce, the firm's managing partner. "She is a born leader with great interpersonal skills, is a creative thinker and is deeply analytic with tremendous communication and time management skills. She manages the daily operations of the firm and provides critical support to several complex class action litigation matters," added Luce. "Without doubt, our firm is enhanced with the leadership Sydney demonstrates every day."
Kaplan graduated magna cum laude from Ohio Northern University's Pettit College of Law and graduated as valedictorian with double majors in history and political science from West Virginia State University.
To learn more about Calwell Luce diTrapano PLLC, visit www.cldlaw.com.
ABOUT CALWELL LUCE DITRAPANO PLLC
With more than two centuries of combined experience, the lawyers at Calwell Luce diTrapano PLLC practice throughout West Virginia and in multiple jurisdictions across the nation. Its legal team focuses on catastrophic personal injury, medical malpractice, auto accident, workplace accident, and property damage litigation. The firm also handles significant environmental contamination and exposure litigation in California, Pennsylvania, Tennessee, and West Virginia. The firm also has a nationwide practice relating to inmate injuries resulting from improper medical care, assaults by corrections staff, negligent processing and monitoring leading to suicides as well as cases involving constitutional rights violations by law enforcement officers in all settings.